: : Granny's Cooking : :
Yay yay! I'm back! And with more pics of Granny's cooking!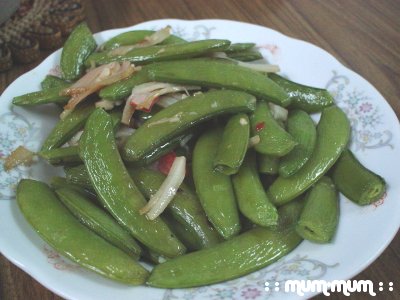 I luv snow peas. They're always so sweet and crunchy. Easy to do with stir-fry but remember to add the garlic in! Granny has cooked it with crabsticks (which were falling apart by the time she finished cooking). Only thing to do with the beans is to remove the ends and the fibre that is along the joined seams (no idea how to call it).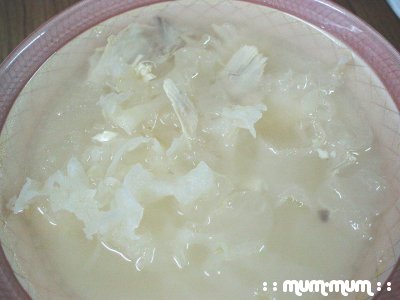 And my favourite again! Oh it taste so good. The white fungus can be found in it's dried form. Needs to be soaked in hot water first and then rinsed before cooking it with chicken. That's all one needs to do to make this great soup.
On another note, technoLAHgist a.k.a. information seeker, provide me a link to the Cook's Thesaurus. It even has belachan there! Disguised as shrimp paste. Check it out!
Update : Thanks to feli so telling me it's not French beans but rather snow peas. 🙂