: : Kuching Fest Part X – The Ending : :
Last day Kuching Fest 2003. Phew! 10 postings is enough to stretched one's capabilities in describing the different food, taste, smells, aromas, visual inspections, trial and error purchases, etc. what have you.
Sio Bee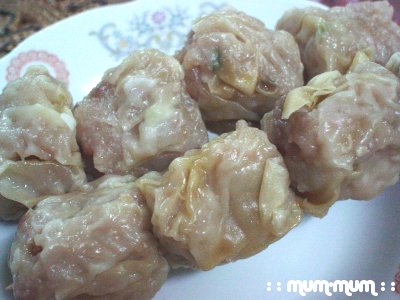 Granny : Wah! Got two stalls ah! Which one is good?
Wena : Well, buy one each lor.
Granny : Not enough! Buy two each!
The picture is only showing 2 sticks of sio be from one stall. Unfortunatelly, Granny and I finished the other 2 sticks on the way back : long wait due to the long traffic jams on the way back. The very nice aroma was too tempting for us. The sio be is actually sweeter than siew mai and there is more filling inside one sio bee than one siew mai. Note that it is not halal as it's make from pork. However, it can be substituted with chicken, fish or prawn instead. The skin of the sio be is similar to the wantan skin but is slightly harder when cooked. The sio be is steamed in a steamer or in a kuali (wok).
Life Cafe Dry Noodles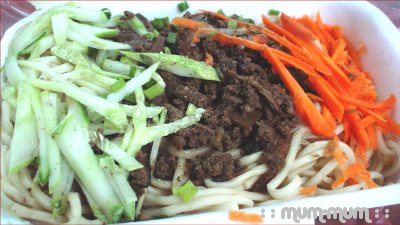 Granny : One spicy noodle and one dry noodle!
Hawker : Okay, Auntie.
Granny then spends the remaining 10 minutes of waiting chatting up the young chap manning the stall. I think she has a really good time chit-chatting with everyone and trying to get them to give her discounts. This is a saucy 70-year-old Chinese lady who is a gem. Living with her has been an interesting experience for the last 4 years.
Anyway, she didn't like the noodles above. Although it wasn't spicy, it was slightly sour and a bit bland after tasting Life Cafe's Spicy Noodles. Which was also ordered and eatened completely. 🙂 Of course, we bought other stuff to eat as well but those were already posted in previous postings.
We also walked through some of the non-food theme exhibitions including the one selling the famous Giant Ginseng.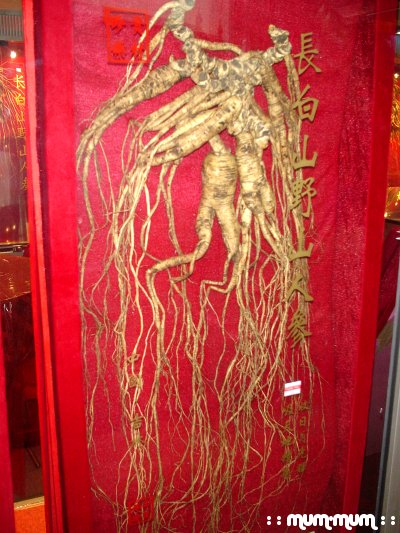 Granny : Wah! RM300 for this piece ah?
Wena : The bigger ones can reach a few thousand ringgit wor!
Granny : Wahseh! So expensive meh? Eh, if eat big one, muscleman can also die liaw! Cannot simply eat one!
She also ordered herself a new stove with 3 burners integrated with the high-tech centrifugal flame system (cooks faster, saves 30% of gas or so the salespeople told us. They crowded around Granny, as usual) and an Akira vacuum cleaner (dirt cheap at RM199. I hope that it will last one year). She likes household items. Always on the lookout for bargains whenever she goes out which isn't often as she doesn't like to walk for too long.
Well, the Kuching Fest is now over for another year. Seems like whole of Kuching was out tonight to get one last taste of the food there. As we were leaving, there were a lot of comings and goings and the traffic jams were horrendous! Everyone was double parked but the policemen seem to be very lenient, no parking tickets on yellow lines. Guess they're all too busy enjoying the food fest as well! 🙂