: : Granny's Cooking : :
No videos today. :p Was posting videos of a fire that occured at the squatter colony next to the house. It's up at …nA : nU : nA : nU…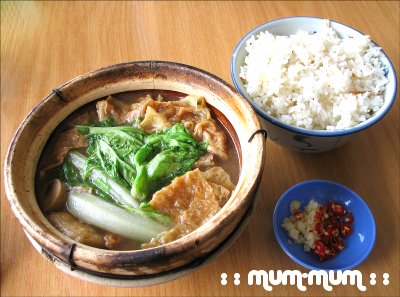 Still, did enjoy Granny's bak kut teh (spare rib tea) for dinner. Of course, she used a quick mix i.e. from a packet. Easier that way. Still tasted good and enjoyed it immensely. Better than what is available outside in hawker centres. Although, I've yet to try the famous Bak Kut Teh at Green Road.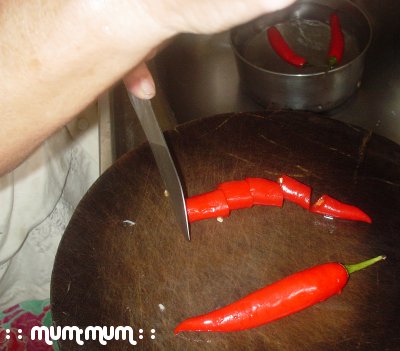 For technoLAHgist, some Hainanese chilli sauce. A bit grubby looking because this was leftover from lunchtime. How to make it? Pound ginger, chilli, purple shallots with sugar and a little bit of salt. If you do not have a pestle and mortar, use a food blender but be forewarned that the chilli seeds will not be crushed. Also, be careful not to touch face with your hands. Will start to sting like mad. 🙂 Oh yeah! Don't forget to add some garlic in! Note about preparing the ginger, you have to smash it with the flat part of the knife to bring out the taste before chopping it up into smaller parts.