: : Kuching Fest Part III : :
Well, continuining on with the Kuching Food Fest saga. Running a bit late but that's what one gets being in standby all the time. Sigh.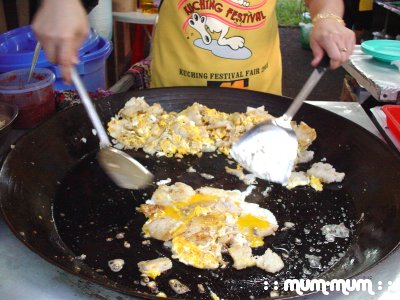 Looks darn good, doesn't it? Famous char kueh. This version was salty but there are some that are sweet. Spicy ones are also available. Main ingredient for char kueh is yam. Egg and the preserved ang tho adds flavour. Can eat one portion as a meal. 🙂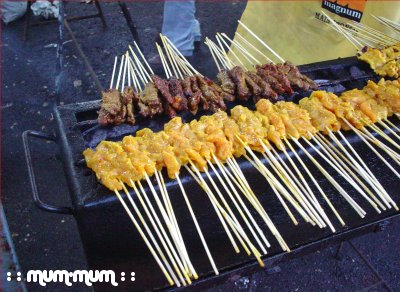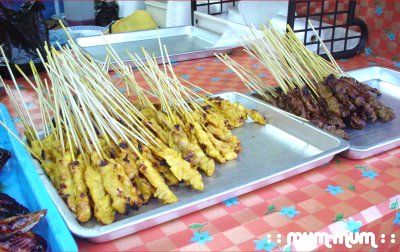 Brings back memories of the fragrant smell of chicken and beef satay being barbequed, eh? 🙂 When I first ordered, it was from one of the stalls facing F&N and Pepsi stalls. Chicken satay and peanut sauce tasted a bit sour. Threw it away as didn't want to have the risk of having food poisoning. Found a better stall just a few doors down of Sugarbun booth. Now this one tasted a lot better.
Think the sign said 'Ichiban'? Not sure what is the correct word in Japanese. Next time must write it down. :p It's known as the Japanese pancake but filled with vegetables and thousand island sauce. Tasted good, surprisingly. Will definitely order it again. I remember seeing a lot of cabbage (plain and purple) and cucumber inside the batter before being smothered with the thousand island sauce.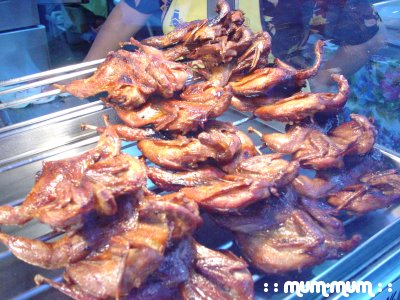 Ohhhhh! Roasted quail! Such tender meat. Succulent. Oh oh oh! How to describe? Sad to say, I didn't buy it. 🙁 Gotta have to get it for Granny tomorrow for dinner time.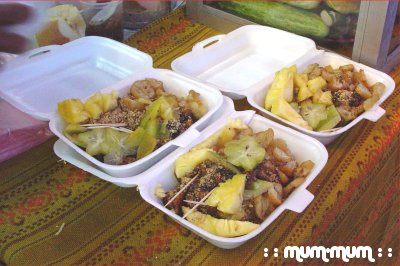 Fruittie tuttie rojak! What is rojak? Just an extremely sweet-sour sauce that is thick and BLACK. Well, more like DARK BROWNISH BLACK but stilll BLACK. Interesting flavour. You'd have to try it for yourself. Not the same as Indian Rojak which has a different taste altogether but still as tasty.
Now, I wonder whether some friends who are holidaying in France are starting to feel HUNGRY! LOL! Must tell me how the nasi lemak do went!
Ciao guys!