: : Fish Bladder Anyone? : :
Wena : Pat, am going home on sick leave. Backache.
Pat : Aw… well, want to have a taste of hu piou soup first?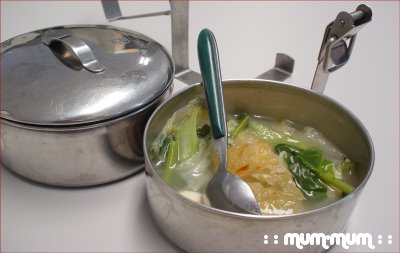 It looked so good but didn't have the heart to taste some. The stainless steel set brings back memories to everyone eh? 🙂
I'd always thought that hu piou was fish bladder but a friend argued back and said that it was a fish stomach. Dad could be wrong when he first told me about it. It's the light brown sponge-looking thinking in the picture. How does it tastes? Stretchy but not tough. Very soft. Not rubbery at all. Yum! Expensive though. Pat's Mum made it for dinner last night and these were the leftovers.
As for backache, resultant of the two trips to Kuching Fest over the weekend. Think I was carrying 10-15kg during each trip, mostly due to the numerous leng chee kang and tau foo far that we bought. Granny was on a roll!