Tonight's pork marinade is German Mustard Sauce with some cumin seeds, just to give it a spicy kick to the pork. Added to that were strips of ginger and garlic. But I think I should have added in 2 tablespoon of garlic, rather than just one only.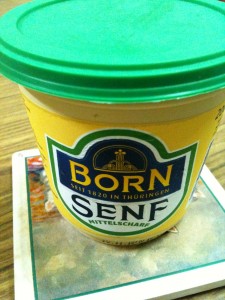 The mustard that flew all the way from Germany. Ok, it didn't fly on it's on but rather carried in the bags of my German colleagues early last month.
So this is tomorrow's meal for breakfast, lunch and dinner :
Stir fried spinach (different variety from the chai sim) with sake and mirin sauce
Mustard Fried Pork : need to find a better way to cook this without frying
Sweet food : Dragon fruit. Granny's plant is giving out small fruit every once in awhile and it's a bit of a challenge to try and finish them all. Think I'll try making some iced dragon fruit drink one day
Tomorrow is a fish day. Not sure what kind of fish I will be  cooking but it will be some bounty from the sea.