: : Chilli Peppers : :
Yep, lunch again at the favourite spot with the usual gang. It's just a great place to eat. Plus, it's halal and the food is also spicy. Great sambal. Here's a rundown on the food we ate.
FooChow Mee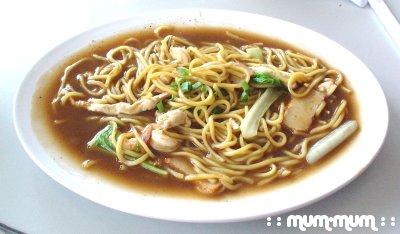 FooChow Mee is a very wet dish. It's fried mee, the wet version i.e. a lot of gravy. Taste great. I dunno how they cook it so don't ask. The mee is not the usual egg noodles. Dunno what they put in. I just eat it. :p
Chicken Porridge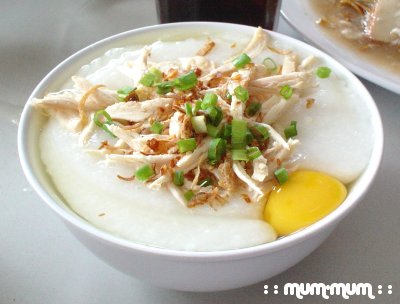 This is the congee version i.e. the rice granules are very small. JW asked for a raw egg to be put with it. Usually common to eat a raw egg with the porridge. Mix it with the porridge and it becomes half-cook.
Mee Mamak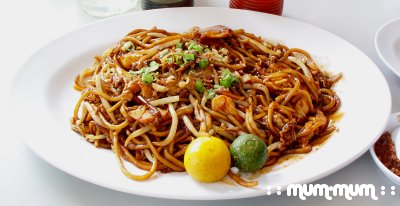 Not the original version from West Malaysia but the best so far in Kuching. It's extremely spicy!! I get a stomach ache if I eat this. Same goes for Granny and Uncle Cyril. It's slightly sweetish and salty at the same time.
Nasi Lemak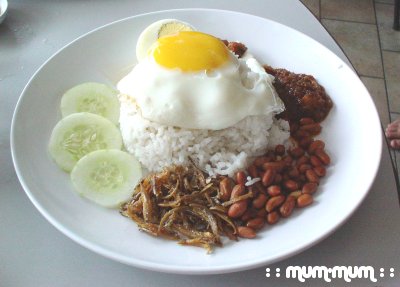 One of the best in Kuching. Translation : fatty rice. The rice is cooked with coconut milk so it's very fattening. When people are talking about good nasi lemak, usually means the rice is tasty and the sambal(chilli paste) is great. Only these two important items make a great nasi lemak. It's a common meal that is quite filling. Other condiments are peanuts, cucumber, half of a hard-boiled egg and ikan billis (salted dried anchovies).
That was lunch. No, I did not eat everything. Cannot lah! Please, I'm not a glutton. :p