: : Life Cafe : :
Yep, went back again. Had dinner with Peter, a friend of Mum's from secondary school (high school). He wanted to eat something simple and Asian so took him to Life Cafe.
Sago Pearls with Green Tea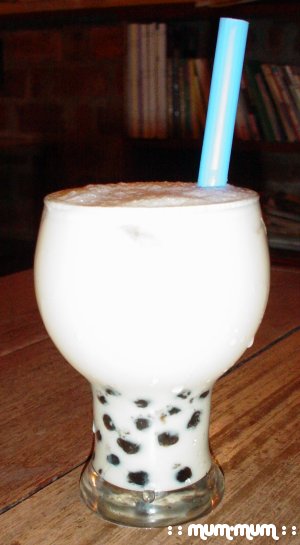 The pearls are not real pearls lah! It's actually made from sago but overseas, it's usually made from tapioca flour. A lot of milk in the tea but tasty good. Thirst quencher, that's for sure. It became the 'IN thing' to drink in Taiwan and it spread to other parts of Asia. Comes in all sorts of flavour like green apple, guava, papaya, banana, passionfruit, orange, peach, etc. Not much variety in Life Cafe but this was good enough for me.
Ice-Blended Passion Fruit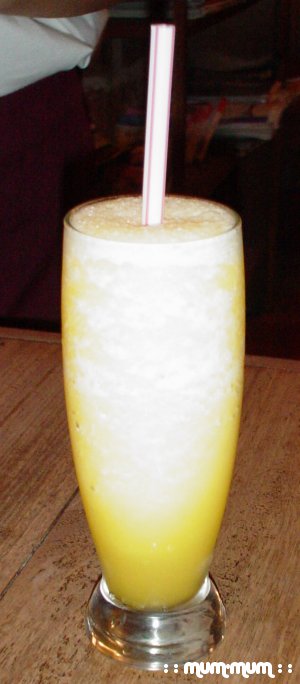 Peter had this. The ice was blended together with fresh passion fruit. The picture didn't come out so well because lighting was too low and the flash too strong.
Life Cafe Spicy Noodles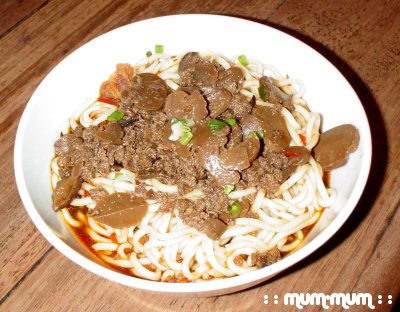 This was great. Egg noodles with minced pork and mushrooms with some chilli oil inside. I took the medium spicy version. Some of the dishes can be made with different levels of spicyness : mild, medium, hot, extra hot!! Even medium spicy was a bit too hot but bearable with my good friend : ice cold water!!
Peter had the Traditional Claypot Rice and we also had some Pan-Fried Dumplings. You can read about it in the earlier posting on Life Cafe.