: : Crowne Square, Pending : :
Took half day off this afternoon as still feeling too tired to work. Went to pick up the Palm Zire for the farewell party tonight from ForeRunner. The shop is at Crown Square, located in the Pending area. Decided to have lunch at the food court there. Airconditioned! Thank goodness : was going to expire in this heat.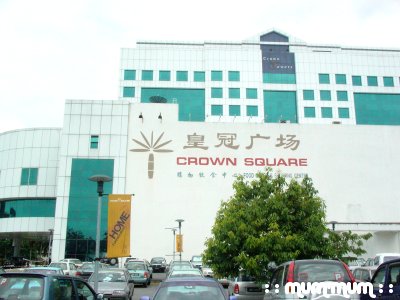 The name of the foodcourt is called Thian Food Court and it's a family-owned business which has been around for ages. They also have a restaurant in another building nearby called Lok Thian Chinese Restaurant with a Japanese (Tenichi), Thai (Bangkok Thai) and Shanghai restaurant in the same building.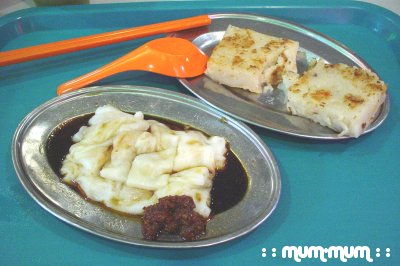 Lunch was prawn chee chong fan and ang kuih (white carrot cake). Chee Chong Fan is made the same way as kway teow noodles except that it is not cut until later. It's prepared by putting a piece of white cloth on a steamer, pouring a thin layer of batter over it, adding prawns on top and steamed for about 5 minutes. Then, the entire thing is rolled up and removed from the cloth. This is the best tasting chee chong fan that I've had so far in Kuching. As for the ang kuih, it is prepared before hand in a steamer, cut into rectagular pieces and later fried. This ang kuih only tasted so-so. There are better tasting one out there in hawker stalls.
A bit more about Thian Food Court. It's an amazing place to eat all sorts of food and it's also halal. You can find Thai food, Chinese desserts, noodles, rice dishes, Western and Japanese food. In fact, Tenichi is the most popular Japanese restaurant in town but it's not located in this building. Even the Japanese go to eat at Tenichi, rather than the other 3 restaurants in Kuching. Probably because there is a Japanese sushi chef working there full-time.
As for the Thai restaurant, there are 3 chefs from Thailand working there, preparing the meals. The menu offers an extremely wide variety of Thai Food. It's a plastic folder with many small pictures!! *Blissful sigh*
Back to Thian Food Court. A small corner of the restaurant is converted into a Mediterranean Restaurant but prices look too steeped to me. Thian Food Court also has an ala carte menu so if you want to order a combination of Chinese, Japanese and Thai food for a big family meal, this is the place. The Vietnamese Crab Claypot is to die for! Yum!
Some pics of the Japanese counter.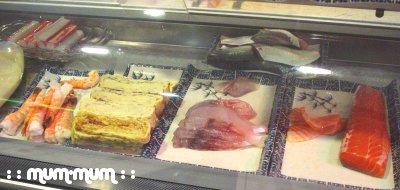 Also took some pics from the Chinese Dessert counter. Some reflections on the glass but it's not too bad.
Never tried Luk Bee Ting before but Bo Bo Cha Cha is a favourite. Usually known as Bubur Cha Cha, it's actually yam, sweet potato and sago cooked together with coconut milk and sugar. Served hot or cold.
Luk Tau Saun is a favourite. Served hot with u char kuih. Also, the famous green bean soup that one has to eat before midnight. Sheesh!
Well, that's it for today. No posting later tonight as will be at a Farewell Dinner taking a lot of pictures of food at Carvery. Will take a few hours to sort out the many pictures taken because over 15 different types of meat served!