: : Chilli Peppers, King Centre : :
Usual lunch spot. BUT!! They're good, especially for my Malay pal, Harris! Halal and tasty Chinese food.
Started on my artistic-photo-taking now. Let's see, what was interesting today…
Ais Kacang Campur

Mee Jawa

Sarawak Laksa
Ais Kacang Campur
I've never seen such thick santan (coconut milk) before, in ais kacang that is. Was tempted to order one as well. Seriously tempted. If you look closely, you can see the red beans, cincau (black glass jelly) and cendol (green green jelly that looks like worms but taste mmmm…). Anyway, let's not digress but move along to the next meal.
Mee Jawa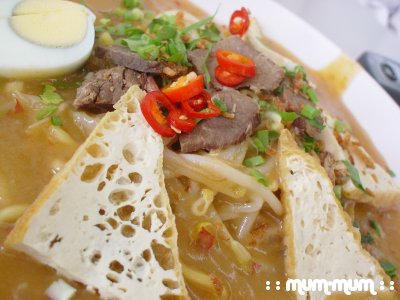 Looks good. Looks D*MN GOOD! Should have ask for a teeny wenny try bite for mum-mum.
Sarawak Laksa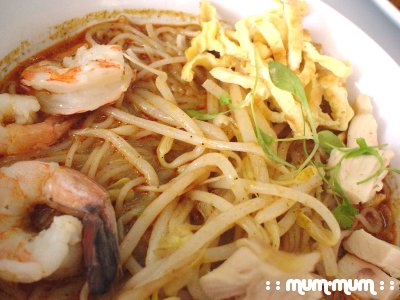 Not as good as my Dad's. Jas, you are one lucky woman to have Dad cook for you tonight!! Am so green. 🙁
That's it. Chilli Pepper's? King's Centre, next to Systematic College. Can't miss that original big big sign in this big big world.