: : Brunch & Granny's Cooking : :
Well, brunch was a really quick affair. After 6 hours of sleep, felt refreshed. Granny had gone grocery shopping and bought back some kueh chap.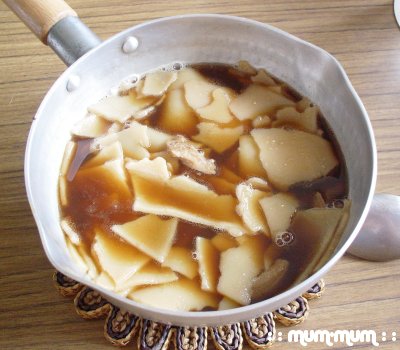 I think Kueh Chap is a local Sarawakian dish. Don't recall seeing it in the Chinese coffeeshops in KL. The big flat pieces of noodles is actually uncut kway teow noodles. Kueh Chap is a high sodium content meal. Imagine all the soy sauce that goes into the dish. However, note that it's a non-halal dish as it's usually cooked with pork : lean meat, skin, intestines. I think the pork can be substituted with chicken. Beef might be a bit too strong but I suppose if one tenderizes the beef before hand, can be used. The kueh chap was bought from Kenyalang Park, one of the foodstalls there. Tasted a lot better than the one I posted much much earlier.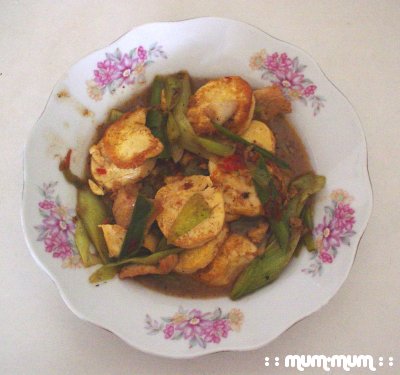 Granny also cooked some Japanese Egg Tauhu with Leek. She used some spicy Sze Chuan tauhu as well to add in some spicy-ness into the dish. Yummy!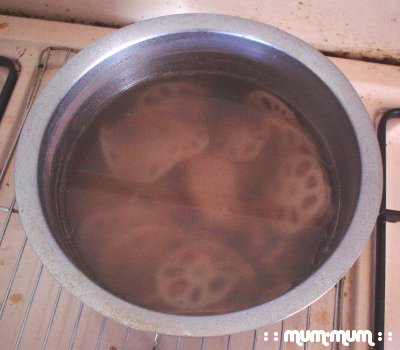 And added bonus : Lotus Soup! I love this! Granny put in some pork spare ribs and chicken meat in. For the Muslims, just add the chicken is sufficient. But, you'll need to boil the sliced lotus pods for a long time to soften. Granny cooks this over a slow fire for a few hours. Add chicken in later as well as salt and pepper to taste.