: : Carvery, Pending : :
I have known Yoon, a fellow Korean collegue, for about 4 years now. When he announced that he was resigning, the entire department decided to 'chia' him to a excellent dinner at Carvery. WARNING! VERY LONG BLOG!
Note that some of the photos are slightly yellow as I did not turn on the flash thinking that I could edit the pictures. Talk about being an idiot.
As usual, Malaysians are generally not so punctual so there were only 5 of us who started first including Yoon. Too hungry at 7:30 p.m. so we hit the salad buffets. Also, Opa (brother) Yoon contributed a bottle of whiskey. Wah!
Hot Salad Buffet

Cold Salad Buffet
Hot Salad Buffet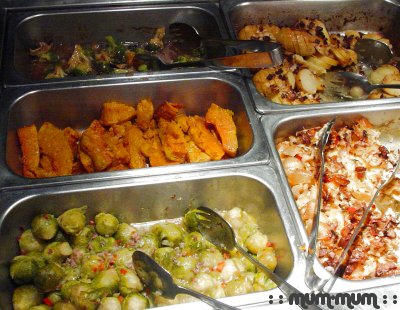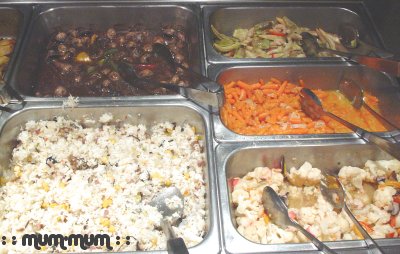 There were a lot of varieties here : baby carrots, stir-fried (FRESH!!) mushrooms, brussel sprouts, fried rice, lasagna, brocolli, baked potato, cauliflower. I'm a sucker for fresh mushrooms!!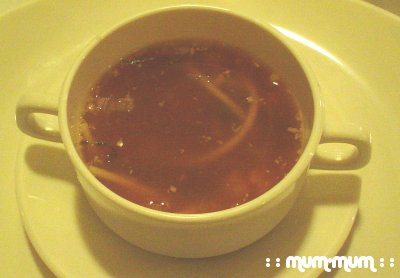 To the right of this buffet, minestrone soup was also served. I added a touch of Tabosco sauce to it to add a little spice. Spaghetti noodles were also added into the soup as well.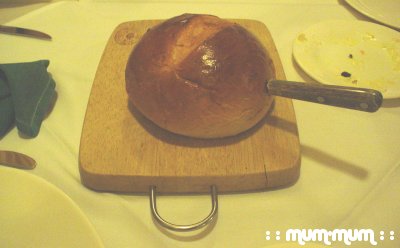 Now the soup definitely went well with the homemade bread. There aren't that many places in Malaysia that makes decent bread. If anyone says that Gardenia is the best bread there is, he/she deserves a whack!
Cold Salad Buffet
The pictures speak for themselves.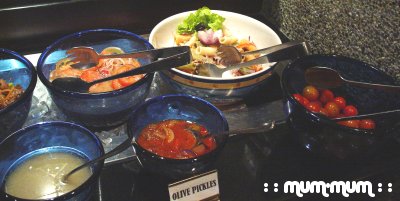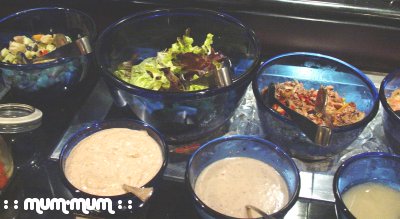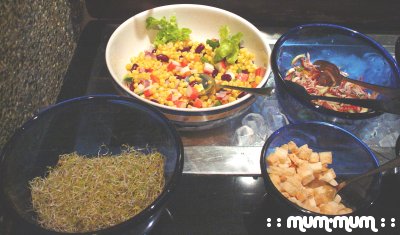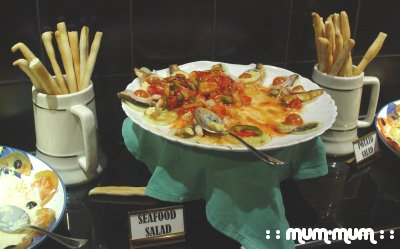 One has to pace oneself when it comes to eating at this place. Portions are just huge! Anyway, here is a the menu for the main course : CARVERY! The meat is cut or served immediately on the diner's plate. Take note that there is an extremely sharp knife so one needs to be careful not to get too close or to move in the direction of the blade.
Beef Ribs

Mussels

Chicken Wings

Lamb Chops

Smoked Beef

Smoked Chicken

Beef Sausages

Chicken Breast

Chicken Sausage

Fried Fish in Batter

Chicken wrapped in Beef Ham

Ribeye Steak

Rump Steak
Beef Ribs
Hmm… the pic wasn't that good. I didn't take this but the others did. They loved it!
Mussels

Another weakness. I think LSL and I had 6 pieces each. Definitely going to visit Lorraine in Brussels to eat the mussels!
Chicken Wings
Better than KFC. I couldn't identify the taste but it was delicious!
Lamb Chops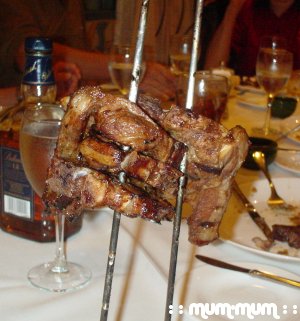 Delicious! Of course, it does have a strong smell but who cares? Also, the mint sauce that came with it is made right in the kitchem. Mmmmmm…
Smoked Beef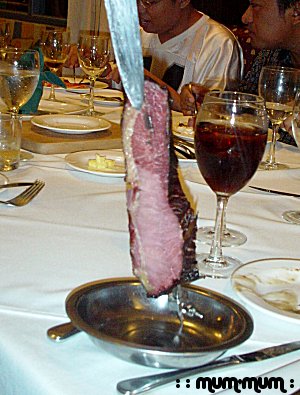 Be forewarned that this is very salty so you'll need to eat it with some bread, rice or veggie just to get rid of the salty taste. Other than that, it's simply too beautiful for words!
Smoked Chicken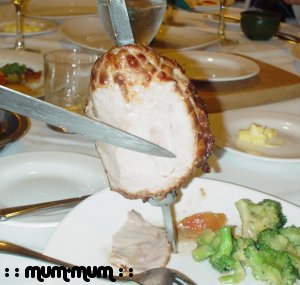 I never like smoked chicken until I tasted this one. The best thing is that it doesn't come apart.
Beef Sausages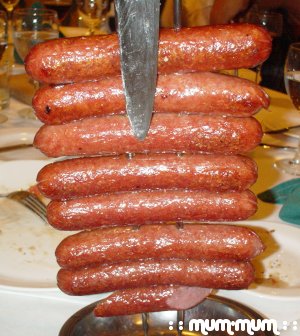 Very salty yes still tasty. I love sausages.
Chicken Breast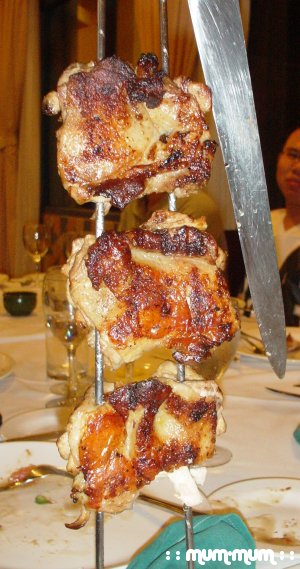 By the time the chicken breast came, I was starting to get too full so needed to stop. Looks good though. The guys just had nearly everything.
Chicken Sausage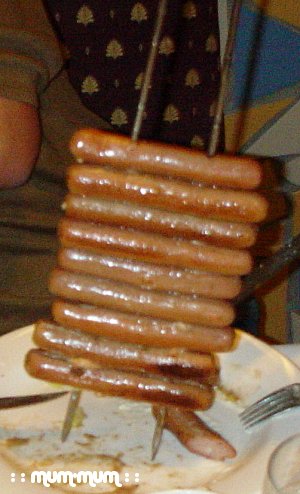 I actually thought that this was the cheap sausage until I tasted it. Talk about taking appearances for granted. It tasted SO GOOD! However, was too full to ask for seconds.
Fried Fish in Batter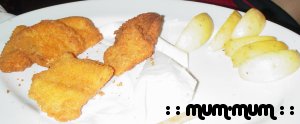 No chips! Ha ha! The highlight was the tartar sauce. They made it there and tasted great! I'm extremely fussy when it comes to good tartar sauce for fish.
Chicken wrapped in Beef Ham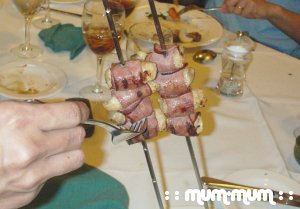 I skipped this one as well. Think after this, I skipped all the food. Too full. The guys were still going on strong.
Ribeye Steak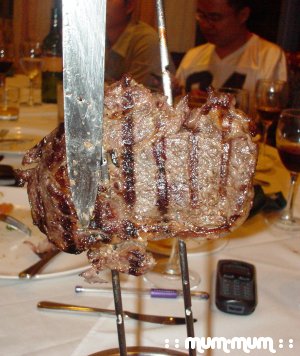 Man. So much meat! Too much!
Rump Steak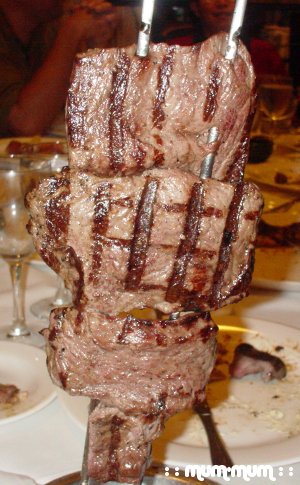 Aiyo! Sayang (pity) cannot try it. Sigh. Looks so good!
A few of my collegues decided to go for the ala carte menu instead. They ordered the lovely lovely salmon steak that comes with salad.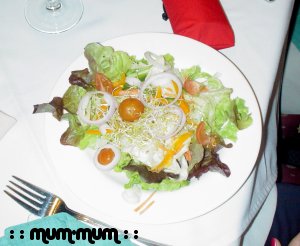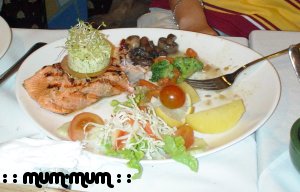 Phew! Then came the farewell speeches from everyone to Opa. Was a rush to make a movie using the digicam. Exchanging batteries and memory sticks. In the end, couldn't capture all the speeches but got the important bits. Adjourned later for a karaoke session in town.
For those who are interested in trying out this fabulous food fare, here is the address and a map of carvery.
Carvery

Lot 2069, Jalan Utama,

Bintawa Industrial Estate,

93450 Kuching,

Sarawak.

Tel : 082-345428, 345429
Opening Hours :

Opens on Monday to Saturday.

Lunch : 11.30 am – 2.30 pm

Dinner : 6.30 pm – 10.30 pm

Closed on Sunday.
Map