: : Drinks & Snacks : :
Rushing to get some blank CD-Rs when I saw this tempting thirst quencher. Looks similar to the one in Petaling Street, in front of Popular Bookstore.
Couldn't resist getting one as it was a pretty hot and humid afternoon. The gals at the counter were a bit suspicious when I ask them if I could take picture.
Gal : What for?

Me : For fun.

Gal : …
Quickly took some pictures before she could say no. Notice the mispelled spelling? Supposed to be Kucing. Mata Kucing is a local fruit that looks like a smaller version of longan. Translation : Cat's Eye. Probably does look a bit like the cat's eye. The flesh of the fruit is firmer and the skin of the seed doesn't stick onto the flesh like longan does. This juicy, delicious, thirst-quencher is so cheap! Only RM1 (US$0.26)!! And the only ingredients are the mata kucing fruit, brown sugar and water! Yum!
This stall is located outside Wisma Wan, Tabuan Jaya, just outside the Big Fresh Supermarket. Does a whopping business but not as good as the one in KL. Heard that the one in KL (where they serve the mata kucing with sea coconut) was checked by Inland Revenue and now has to pay taxes! I seriously need to get an interactive map of Kuching up soon. One day.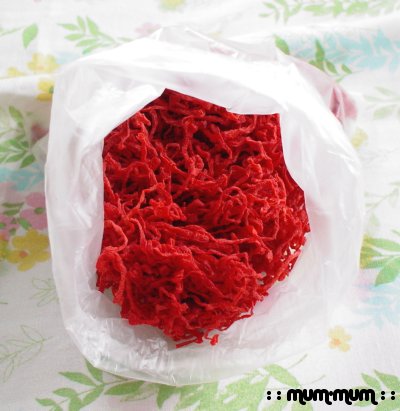 Well, since I was going to buy some CD-Rs, also stop by the timbang place to get some junk food. This time, bought some chai tau po. It's actually made from a type of white carrot that is……errr… hmmm….. tough? stretchy? springy? rubbery? It's all those things but tastes great as well. This one was shredded, preserved in sugar and dyed in red. Bought too much : 100 g. Will be eating it over the next few days. Was tempted to take pictures of the timbang place but decided not too. The gals would freak out. Will do it another day when I go with friends. Besides, a lot of postings up on Sunday already.