: : SoHo, Pandungan : :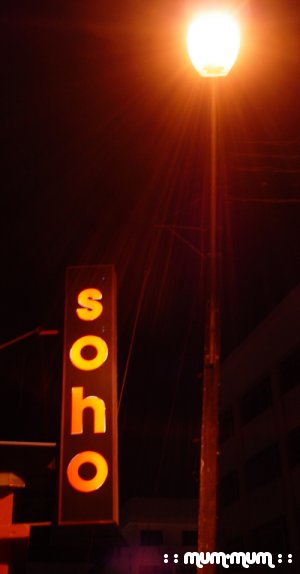 Okay, a bit more clearheaded today. Went out to SoHo after dinner last night with BJ, Tiger and some other friends.
SoHo is a pub along Pandungan Road, very near to Holiday Inn Kuching and Crowne Plaza. It's actually facing one of the many Kuching City statues. Drinks are reasonable and music to good. Service could improve but it's great just sitting outside and chit chatting with friends. It's also a restaurant where the food is tasty but we didn't eat there. I love the spaghetti carbonary and kalamari squid. Yum. However, the restaurant closes at 10 p.m. and that includes hot snacks. They still serve peanuts and ikan billis (salted anchovies) until closing time.
Had a shot of vodka lime but took it too fast. So, was sleepy after that. Plus, it was so bloody hot. Should have gone to Monsoon instead where the breeze from the riverbank is more cooling.
Took a few more shots. Then, we all left at about 11:00 p.m. Early night? Yeah, too many things to do tomorrow. Same for everyone else.