: : Snacks : :
Lunch today was a quick bite from the cafeteria. All time popular kuih : CURRY PUFF.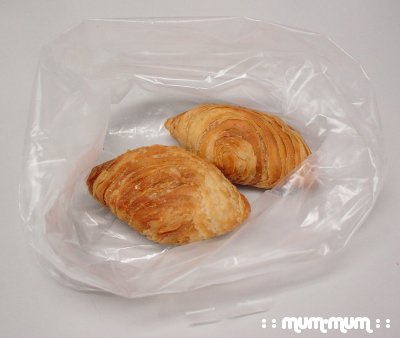 This is truly amazing stuff. I'm sure all Malaysians will vouched for the tastiness of this particular kuih. I think this version was baked in an oven because it's not the usual pastry. The pastry is the Western version but it sure goes great with the mashed potato filling. The filling is mashed potatoe mixed with curry powder. It's extremely smooth. Where to get this? UNIMAS (UNiversiti MAlaysia Sarawak) : at the cafeteria.
To go with the Curry Puff, I bought an Asian canned drink favourite : soya bean milk! Not the fresh one unfortunately. Got the Yeo's version but it's equally as good. Note that at the time I posted this, Yeo's website was down. Don't know why. Read somewhere that sales of soya bean milk worldwide exceeded sales of Coca-Cola! Think it was in the Star, NST or Sarawak Tribune but it was a long time ago. Oh well. Only problem is that bought soya bean milk has preservatives inside and one can taste it. After experiencing homemade soya bean at a friend's place, I'm a changed person!