: : Kuih, Kueh : :
Since steph requested for some kuih muih pics, here are some of them. Funny how food looks good on a camera but doesn't quite taste as good? I took these shots from the company cafeteria early this morning. Was trying to arrange them in an orderly manner but the rest of the other people were looking at me in a funny way. Also, the cafeteria staff started getting nervous when I whipped out my camera.
Granny's contribution : helping me to identify the names of the different types of kuih. Note, she also got hungry. Ha!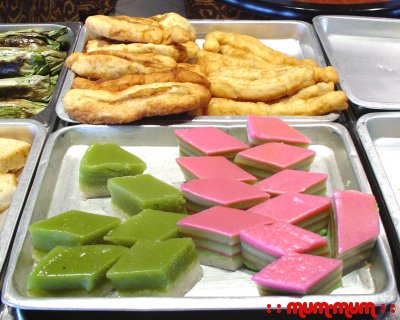 Clockwise from top left : Ham Chee Peng, Yu Char Kuih, Kuih Lapis, Kuih Salat. The ham chee peng is not in it's usual circular form. It's a light fluffy bun that taste slightly saltish. Yu Char Kuih is my favourite but this version tastes so bland. Probably because they add too much flour that it becomes too tough. Yu Char Kuih goes great with porridge and bak kut teh though. Think it'll also go great with chik kut teh (chicken version of bak kut teh). Kuih Lapis is a layered snack which 3 different colours. Even though it's steamed, it's still a bit oily from the glutinous flour used. Kuih Salat has a pandan layer on top and glutinous rice layer on the bottom. One of my favourite kuih.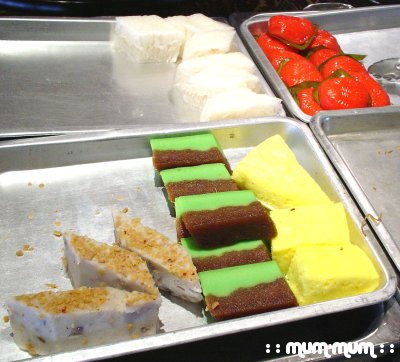 Clockwise from top right : Hua Kuih, Ang Ku, Kuih Talam, Unknown Malay Kuih, Kuih Yam. The Hua Kuih looks a bit too thick but not sure. Ang Ku is a red kuih that has grounded peanuts inside. An addictive kuih, believe me. Granny and I were scratching our heads on the name of the kuih and the green and brown kuih. There are actually a lot of Malay kuih I have yet to sample. Not sure what is in Kuih Talam. Any ideas anyone? Kuih Yam is one of my all-time favourite. Missing some chopped chillies and spring onions on top though.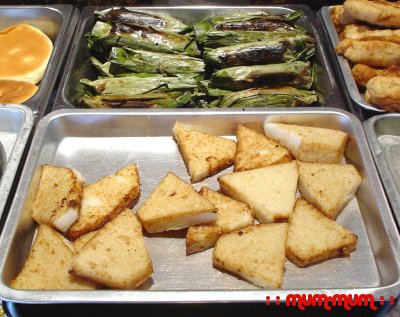 Top down : Pulut Udang, Chai Tau Kuih. Pulut Udang is actually glutinous rice with chopped dried prawn as filling. It's wrapped up in pandan leaves and then steamed. Are those staples? Yep. They don't use little toothpicks anymore. Staples became more convenient so remember to check that you've removed them. As for the chai tau kuih, it's also addictive. It's sometimes chopped up and fried with egg. Yummy.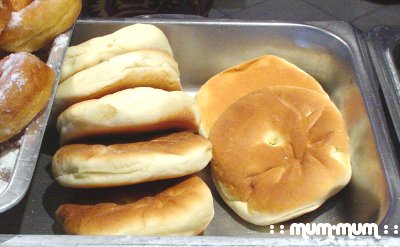 Last kuih taken. This is the Kong Pia. It's actually a very light, fluffly bun that surprisingly doesn't taste oily but you can feel the oil in your fingers. I think Granny mentioned that it was a popular Foo Chow kuih but I could be mistaken.
There are actually more kuih outside but these are some of the popular ones. I have to seriously get out to the market one day with my camera and do the tourist thing. Just for the heck of it.