: : Sarawak Laksa : :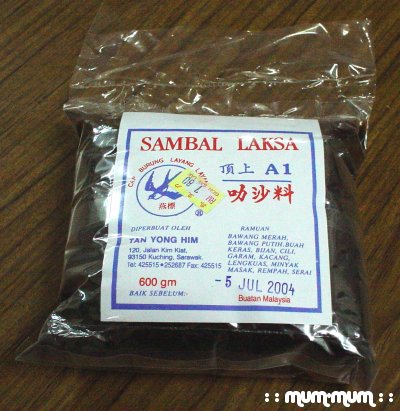 Went out this evening to get steph's sambal laksa (laksa paste) to make the famous Sarawak Laksa. This particular brand is the best tasting one in the whole Sarawak. Good laksa hawker stalls always use his paste. Sad to say that it's only available in Kuching. When I used to live in Miri with my parents, we used to 'order' from whoever was coming up from Kuching.
Right, trying to recall what my father told me about the manufacturer. It's a family-owned business somewhere in Green Road. They've been making laksa for a really long time. They used to run the St. Joseph school canteen where it first became famous. It's a bit more expensive now compared to before but still very much so affordable.
It's available in 300 g and 600 g packaging. I got the packets from a Chinese grocery shop called Goh Say Lak along Green Road. A bit far to travel from my home in Tabuan Jaya but it's kinda difficult to hunt around Kuching looking for this particular brand as there are limited stock available. The shopkeeper amuses me : looks like a typical Chinaman with shorts and T-shirts and yet has a very polished English accent.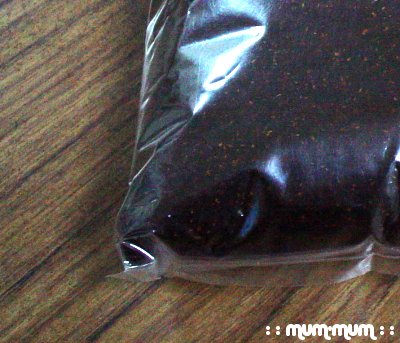 Here is a closeup of the packet. Yep, pitch dark brown. Can't eat the ingredients though. The paste is boiled in water to extract out the delicious flavour. Then, drain the water and add coconut milk in it. Cholesterol, cholesterol, cholesterol. Behind the white label, there are instructions on how to cook the paste but Daddy dearest has a better recipe. Okay, I'm biased. So what? ;p He's good at it and his laksa parties in Miri are famous.
The laksa stall at Tabuan Jaya makes a mean soup. My favourite. Other locations are the stall in front of Maybank Office in town, the coffeeshop in Sekama Road (can't remember which one, sorry), coffeeshop next Grand Continental Hotel (mornings only!! it's that popular). Then again, Hilton Hotel's laksa soup is good as well but pricey at RM14 (US$3.67) but available the whole night (I think). For Sarawakians in KL, there's a place in Bangsar that sells Sarawak Laksa. Can't remember the name though. I just remembered it was along the same row as Coffee Bean but further up. Has throw pillows on the floor. Heard that it's a bit pricey.
Okay, have ranted and raved enough about Sarawak Laksa. Gotta go. Enjoy it people.