: : Stall 25 Bukit Mata, Topspot : :
This is going to be really long blog so will only put up the dinner items. Took too many pictures and it's taking me a long time to sort them all out. I'll cover the different types of food (uncooked) later on.
Went out with BJ and her bf to join her sister UJ, friends and other relatives for dinner. There were about 14 of us having dinner so we had to join two tables. It was a seafood dinner at a popular foodspot. Would you believe that the open-air restaurant is above a carpark in Kuching?
Topspot is a great place to go for seafood, especially since it has lot of restaurants to choose from. We ate at Stall 25, Bukit Mata, as the food is one of the better tasting spot in Kuching. Also, parking is extremely convenient (corny today, so what? ;p).
Okay, let's bring on the food. We could not finish everything because it was just too much.
Oyster Omellette

Butter Prawn

Sweet and Sour Fish with Mangos and Chillies

Stir-Fried Kangkung Belachan

Bake Tom Yam Squid

Stir-Fried Cangkuk Manis with Egg

Fried Cockles in Oyster Sauce and Soy Sauce

Lemon Chicken
Oyster Omelette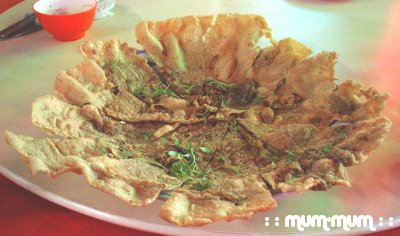 Another way to cook the oyster omelette. It's different from the earlier posting of the same dish. The one we had was deep fried until it was crispy. Serve with light soy sauce that was extremely salty. The oyster omelette is a specialty of Stall 25.
Butter Prawn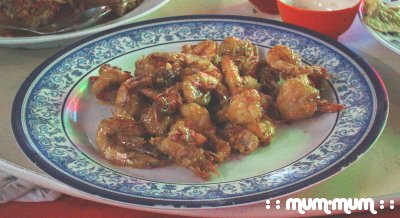 Need to have a very very hot wok to cook the butter prawn until it's crispy. The prawns are still partially covered with it's shell but it's crispy enough that you can munch the whole thing. It's not a spicy dish but seriously fattening because of the butter. Still, not bothered last night about this. A chloresterol bomb.
Sweet and Sour Fish with Mangos and Chillies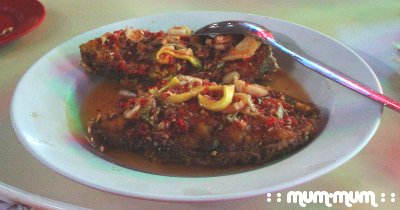 An excellent version of sweet and sour fish that was cooked with mango and chillies. The mango is the sour type and the flesh is still very firm. Still, it added a pleasant taste. It wasn't so spicy even though there were chillies in it. Or maybe it's because I just cannot taste the spicy-ness. In other places, this dish is known as Thai Style Fried Fish. I can hear Auntie Sandie saying, "Too much taste that it's so hard to sort it all out!" Auntie Sandie is a lovable American lady I met last year, my mum's close friend. Couldn't take all the different tastes at once.
Stir-Fried Kangkung Belachan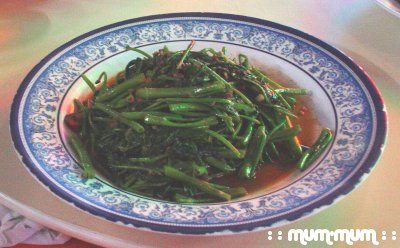 An all-time favourite but definitely spicy. Just found out that kangkung is known as Chinese spinach. Hmmm… spinach with hollow, crunchy stems. The entire dish was eaten completely.
Bake Tom Yam Squid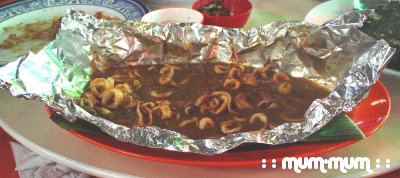 First things first : do NOT be deceived by the words tom yam. They actually put curry powder into it! Ewww! Well, the squid wasn't so bad but it could have been better if they only put in the spices. I didn't even see a single piece of lemon grass swimming in all that gravy. Do not order.
Stir-Fried Cangkuk Manis with Egg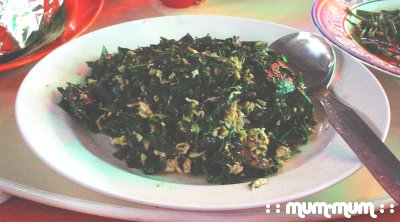 Cangkuk manis again. Well, it's a great dish so cannot complain.
Fried Cockles in Soy Sauce and Chillies
Yep, fried cockles in soy sauce and some chillies as well. Everything was spicy that night. Just love spicy food. But!!!! Do not like cockles. It's called se ham here in the local Chinese dialects. Not for me. I prefer scallops. :p
Lemon Chicken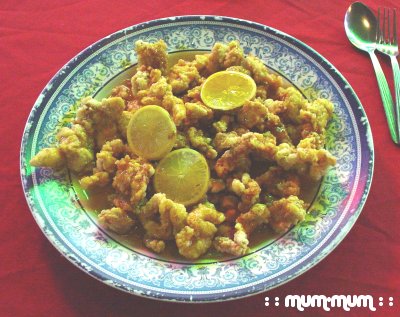 Last dish of the night. 8 dishes for 14 people. Phew! Too full lah! All-time favourite : lemon chicken!! Tasted more sweet than sour. Yumm….
Well, that's all for now. I'll add another blog tomorrow on what is up at Topspot. Took too long to get this blog up. Enjoy reading it!!