: : Thompson Corner, Tabuan Jaya : :
Yes, I went back to Thompson Corner for lunch again. AH had to eat where there was halal food so okay lor. Suffice to say that I ordered pork and ate in front of him but he's quite cool about it. BJ, SA and JJ were also having lunch together with us so I had more pictures to snap. Yes, I remembered this time!
Chinese Fried Rice

Malay Fried Mee

Bak Kut Teh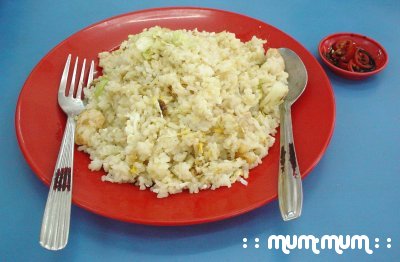 Chinese Fried Rice

This is a very "white" version of fried rice. One of the whitest I've ever seen. It's only so-so so be prepared. The reason why it's not so dark is because the hawker seller used light soy sauce and not the dark type. I suppose some people like it this way. Another thing missing is the taste of deep fried shallots. Now, the shallot is the ingredient that brings out the flavour of Chinese Fried Rice. Ahem, non-halal.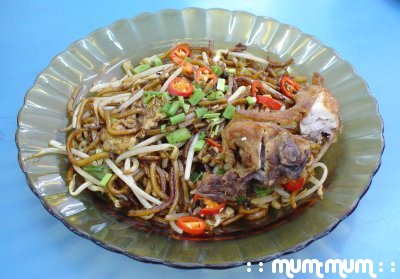 Malay Fried Mee

There is a difference between Malay Fried Mee and the Chinese Fried Mee. Malay Fried Mee is generally very spicy AND sweet as well. A lot of dark soy sauce is used for this one but it was still tasty. Checking the picture tonight, just realised that it was a bad shot because the chicken bone is exposed but oh well. Was being chased by people to hurry up to take the pictures. Be prepare for at least a 15 minute wait for this mee but it's worth it! Another favourite from this stall is the Malay Fried Kway Teow. That is also tasted. As the name implies, it is a halal hawker stall although it's not always open during lunch time.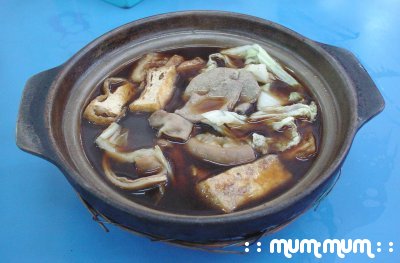 Bak Kut Teh

I'm giving up eating bak kut teh at hawker stalls. The Sarawak version is so totally different from the West Malaysian version. Too much sugar and too little spices and garlic. Also, too much sugar. Yuck! Bak Kut Teh actually means Spare Rib Teh but that's the literal translation to English. What's inside the soup? Pork meat, pork skin, pork stomach, pork intestines, tauhu and lettuce. Definitely not for one who is not used to this. Granny makes better soup out of a packet! The best Bak Kut Teh quick fix packet is the A1 brand. I heard from a friend that the family that owns the shop selling the famous Bak Kut Teh in Klang, Selangor, is manufacturing this brand. Wouldn't be surprising as the packet version is good! This is an extremely easy dish to do and you can boil it for a long time without having to worry about it getting spoilt. Great during winter times in UK! However, for the Westerners, it's for the adventurous as there is some…er…shit in the intestines. Not much but enough to taste. Some places have it more than others. Sort of a delicacy.
Quick directions to Thompson Corner. It is the Tabuan Jaya branch, behind Bank Utama, facing the wet market and carpark. Can't miss the big sign. Always a popular foodspot during lunch time especially since it serves those iced drinks! Yum!