: : Thompson Corner, Tabuan Jaya : :
Lunch today was really a moral booster after a bad Monday. Had my two favourite food :
Sarawak Laksa

Ais Jagung (Iced Drink with Corn)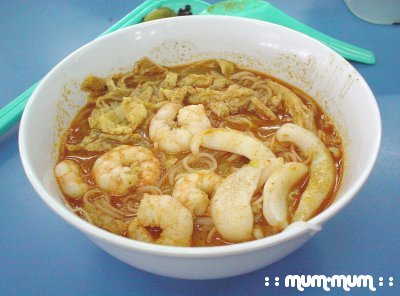 Sarawak Laksa

An all-time favourite dish in Sarawak. The taste is similar to curry laksa but it is thicker with many other spices and herbs added into it. The one I ordered had the following ingredients inside : bee hoon, sliced chicken, sliced prawns, sliced squid, sliced omellete, taugeh (bean sprouts) with chopped spring onions as garnishings. It was accompanied with a slice of lime and belacan (prawn paste with chilli). The best laksa sauce is made from the Swallow Brand with the logo of a blue swallow there. The stall I ordered it from is not halal.
Ais Jagung (Iced Drink with Corn)

This used to be a kiddies drink for me and my sis when growing up. After that, we graduated to more fanciful iced drinks like ABC and ang tow chendut (red bean with green jelly in coconut). Anyway, for the iced corn drink, it's definitely a thirst quencher during a hot hot sunny day. It's actually ice shavings mixed with corn (of course), condensed milk, brown syrup and grenaldine syrup. Mix it altogether for a juicy, cooling drink!
Thompson Corner is a hawker food stall where a lot of proprietors sell different types of food for reasonable prices. This particular branch is located in Tabuan Jaya, behind Bank Utama, next to Expert Foodcourt. Note that there is only one halal food stall in this hawker centre.