: : Nasi Ulam : :
Granny was so excited today. After watching Chef Wan's cooking show on the telly last evening, she decided to make some Nasi Ulam @ Ulam Rice today.
I'm giving to you a translated version of the Malay Wikipedia of Ulam. I hope I managed to translate it properly. I paraphased the information a bit.
Ulam is a name given to a group of herbs and vegetables that are eaten raw or blached (quickly dip in hot water) that are eaten with rice. It can also normally eaten with some side seasoning like budu (grinded dried anchovies @ ikan billis or dried prawn @ udang bari), cencaluk (a spicy sauce made from tiny baby prawns, cillis and other seasoning) or sambal belacan (chilli paste made from dried fish or prawn paste); eaten with rice. Ulam is famous as daily fare for the Malay community in villages. Ulam is taken from many different portions of a plant. This includes the shoots, leaves, umbut (someone help me with this translation please, thanks), seed, fruit, root and sometimes the flower. Common vegetables such as cucumber, lettuce and eggplant is also used to make an Ulam dish. Traditional medicinal herbs are also used.
Here is the Nasi Ulam @ Ulam Rice that Granny prepared. There is no frying involved other than having to cook the rice.
Ingredients

Daun Pegaga @ Centella asiatica, Urban Spadeleaf (although ours does not grow in the wetlands)

Daun Cekur @ Aromatic Ginger Leaf, Lesser Galangal

Daun Kedom / Kadok @ Wild Pepper Leaf, known to the Chinese as "Young Sirih Leaf"

Daun Kesom @ Laksa Leaf, Vietnamese Coriander

Daun Pudina @ Peppermint

Slices of Onions (raw)

Salted Fish

Chopped Chillis

Lime Juice

Pepper to taste

Rice
The Ulam herbs were sliced into small strips and the salted fish was grinded using a pestle and mortar. Squeeze some lime juice into the mixture. Now, mix everything together in a bowl until it is well mixed.
It is a fresh and tasty dish. I certainly felt a lot better. It's a dish that is without much preservatives except for what is used in the salted fish.
If you're in Asia, you would be able to find the herbs at the wet market. It took me quite a while to find the correct internet links that had some useful pictures in them. Even then, I wasn't too sure whether it was the correct information or not. There are a huge variety of spices used in South East Asia that to classify every one of them. So, to help you along, here are some pictures from my Granny's garden.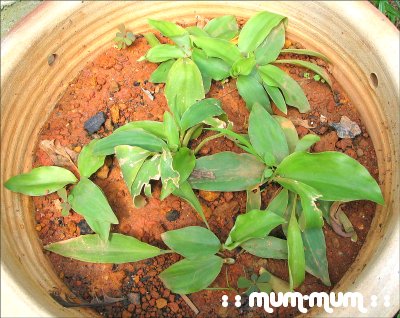 Daun Cekur @ Lesser Galangal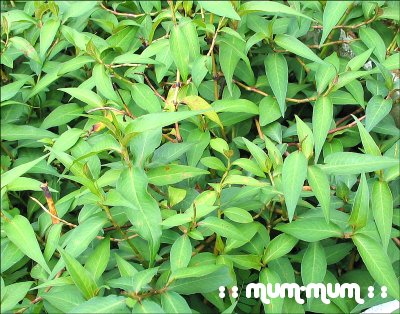 Daun Kesom @ Laksa Leaf, Vietnamese Coriander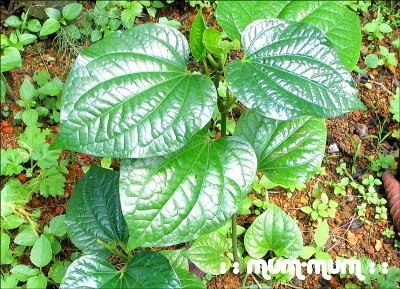 Daun Kaduk / Kadok / Kedom @ Wild Pepper Leaf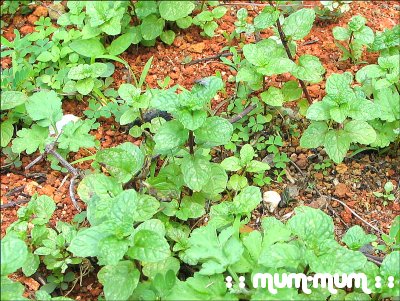 Daun Pudina @ Mint Leaf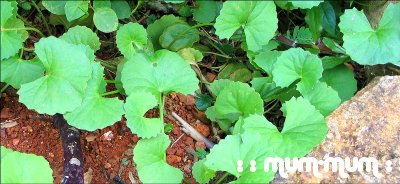 Daun Pegaga @ Centella asiatica, Urban Spadeleaf
I hope you enjoyed this posting as much as I did. Here is Granny's joke for the dish :
Granny : Jaga ah! (Careful ah!) Afterwards you bang pui too much! (Flattulence!) But good to clean stomach woh! (BIG HINT about bowel movement!)