After my massage session yesterday, I went with my cousin, Em, to a new place in town known as Fusion Cafe. We've been wanting to go there for awhile but didn't have the guts. There's just too many choices in Kuching that it's difficult to decided where does one want to go and have a bite of something.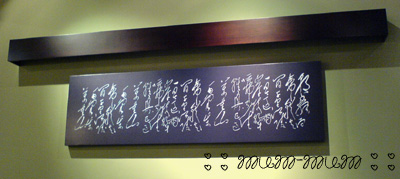 The restaurant is located in Padungan. The interesting bit is that it's located on the 1st Floor of the building and the kitchen is located on the Ground Floor. If you know where Tao Restaurant is, it's just right next to it. Sorry, didn't take the main signboard because my SE W800i cannot take good pictures at night, especially when it's more than 20cm away from the camera. My LED isn't that strong.
The first problem we had was that the staff couldn't speak Hokkien and Em wasn't so well-versed in Mandarin. Me, I'm a hopeless Chinese that can't speak a work of any of the dialects, let alone Mandarin. Yeah yeah, I'm an embarassment to the community but it still doesn't stop me from doing food reviews. Haha!
Anyway, the only English speaking person turned out to be the proprietor, Grick Liew. So, we made our selections from the menu on the table. Similar to what I've seen in KL, orders are made by the customer by filling in Menu Forms that are on each table. The orders are made using a pencil. The menu selection actually looked pretty good and most of the cooking looks healthy.
Before we go on, here's a brief introduction about Chinese Herbal Cooking. It's not always bitter and it's not always nasty. It's similar to something that has been cooked at home and definitely, the selection has a lot of soups and stews. Deep fried stuff is kept to a minimum as well as very sweet sauces. The challenge is to make sure that the taste of the food ingredients is not camoflouged by all the sauces.
Sad to say that while I'm undergoing some massage treatment, I cannot eat spicey food or seafood. Strict instructions on dieting so as to improve my well-being. Well, to humour my masseur, I decided to abstain from those food and it helps since I'm also dieting at the same time.
Anyway, back to the food. Here are the photographs. Along with Granny's commentary after I spoke to her the next day about the food.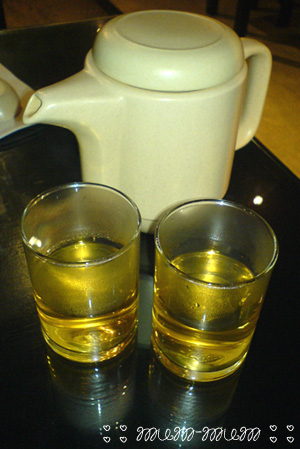 The drinks selection wasn't a lot but I suppose it's to go with the theme of healthy Chinese cooking. So, deciding to stick to the Chinese philosophy of not drinking cold drinks for better blood circulation, we ordered a pot of Chinese. Then again, this was the only hot drink that they had in the house. It either softdrinks or fresh juice which were apple, carrot, and other fruits.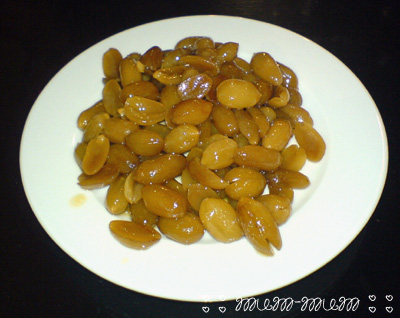 While waiting for our food to arrive, we were served some peanuts coated with a sweet sauce. These are not the fried peanuts from a junk food packet but rather, boiled peanuts. Boiled peanuts are not as crunchy as the deep fried one but it was definitely different and one of my favourite ways of eating peanuts. Plus, it's also easier on the teeth. It's also wasn't too salty and not too sweet either.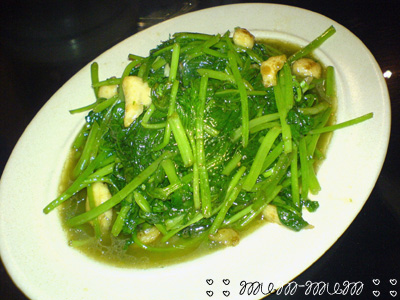 This is the Ah Por Fan Shu leaves or Sweet Potato Leaves. I can only guess that it was cooked with a lot of garlic and a bit of oyster sauce as well. It was definitely a lot of stuff for a small portion of food.
Granny : I can also do this lah but I like to cook it with sambal. I like spicy food! Otherwise no shiok! Haha! But, look good lah.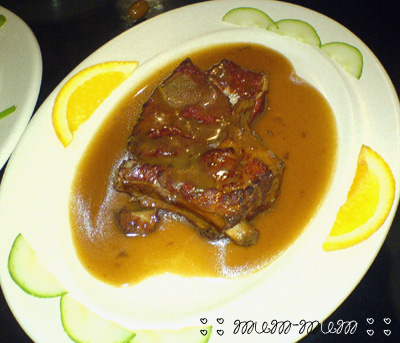 This was the "Dong Buo" pork dish that we had. It was soft enough that we didn't need a knife to cut it and firm enough to still taste pretty good. I tried to Google Dong Buo but not much references pop up so presumably, the English translation of his name was not commonly used.
Granny : Dong Buo is old famous Chinese hero. He go another place to look after it. The village people very happy with him so they give him lot lot of pig meat. After that, he cook it and give back to them. First, pork fry and then steam to make soft. Usually cook with soy sauce and mushroom one.
That night, we didn't have any mushroom but I can say that the pork was tasty because we finish everything! The portions are served in the size shown in the picture for about RM6 (USD1.63).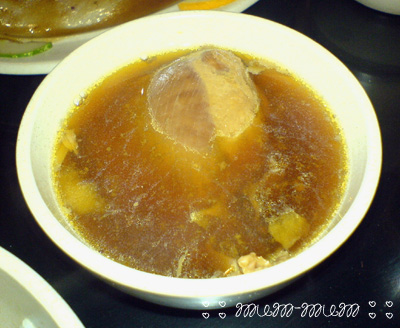 This was the usual Chinese Chicken Herbal soup but instead of ginseng, the chef coconut juice and flesh was added in. What we could see inside were just the coconut flesh and some dates. Coconut milk is not used in here and hence, that's why it's not thick or creamy. The coconut juice is the coconut water from a coconut when it's first crack open. As for the flesh, it's the thin white layer that's inside the coconut. These coconut slices were sliced thinly and added into the soup. Plus, the soup was boiled a long time that the chicken inside was already very soft that it was starting to peel away from the bones. I actually prefer soup this way as the soup itself would already have most of the nutrients inside it. The thing about Chinese Herbal soup is that it's not the meat that needs to be eaten but the soup rich with nutrients from boiling it for so long.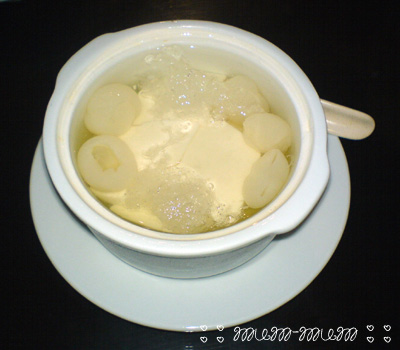 And to cap off the meal, we had some dessert. We settled for Cold Longan and Tofu. The tofu here is not the tofu used in the normal main dish cookings but one that is specially for desserts. It's light and fluffy and this one was freshly made because of no preservatives. Very nice to eat but longan cannot be taken in great quantities as it's pretty heaty and will give you a sore throat.
That's my dinner yesterday with Em. Luckily, nobody mentioned all the fumes that I was giving out after my massage session. Although, my knees and legs were so shaky that I nearly couldn't walk down the stairstairs.
Well, all in all, it was a nice place to have a meal. Bear in mind those that it's not exactly cheap like in an open-air restaurant. However, it is a different kind of cooking and you do get to eat in an air-conditioned environment that is clean. Food is served from the Ground Floor to the 1st Floor via a dumb waiter. Our meal cost us RM58.80 (USD15.47) which is a little bit expensive than normal but the good thing is that the food wasn't too oily and that it tasted refreshingly different from the normal heavy eating at common Chinese restaurants. Plus, it was quiet compared to some of the places I've been.
The shop is still pretty new, having open 2 months ago. It's located along the same shoplot row as the Padungang Police Station but it's about 2 blocks down from it.
Contact Details
Fusion Cafe
Proprietor (??) : Grick Liew
Mobile : 012 910 3543 / 016 883 5485
177, Lot 38, Section 50,
Jalan Padungan,
93100 Kuching,
Sarawak, Malaysia.
I'd definitely go there again to try the other dishes and see how it tastes like.