I have a friend that is salivating with the pictures that I put up here. The Reading Monk seems to love the food pictures that I put up so here's another 2 pictures to add to the pool.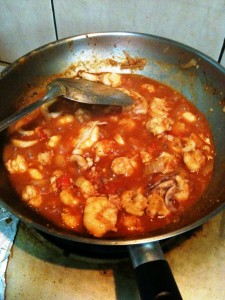 Because I haven't had seafood marinara in a long time and there were some leftover squid from the last dish I did, I thought I might as well make it. The last few days were spicy or oriental flavoured so why not a bit of Italian? Although I sort of regretted not taking the trouble to go out into Granny's garden at night to grab some fresh basil. It would have made a difference so instead, I piled up the dish with McComick's Salt Free All-Purpose Seasoning. I also found that butter goes wonderfully when cooking with prawns and squid. The aroma of the stir fry is so delicious that you could taste the grilled buttered prawns i.e. I browned some of the prawns a bit.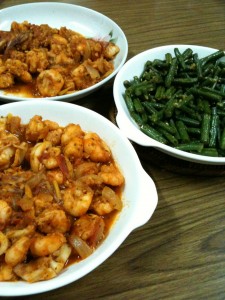 Seafood marinara minus the pasta as I'm still trying to lose weight. So, I had a stir-fry veggie to accompany it which was long beans stir-fried with garlic, mirin sauce and tamarind sauce.
One thing I've realized that it's now fairly easy not to be tempted by food (well, not too much) once I clear up any open items. It doesn't have to be something complicated like at work. It can be simple stuff like stocking up on food, making the effort to cook, heading to the gym to build up my endurance or making the effort to meet friends and family. So, definitely one item that is crossed out of my list : cleaning up my panties to throw away giant ones that I will no longer wear. Can't believe it filled up 2 big plastic bags.
Anyway, tomorrow is a new day. I can already hear Granny asking, "So, what to take out for your meal for Friday ah?" She's been a great sport helping me deal with my hectic schedule by helping to prepare the veggies to be cooked.
Well, that's it for today. Have a great day everyone! 🙂