Trust me when I say that I didn't intentionally started out to make beef stew thingimajig but it literally ended up tasting like beef stew because of the carrots and the corn. In fact, it turned out better after it had cooled down a bit and the miso seasoning had tapered off a bit. Well, it was attractive enough for one of my uncles to be tempted into eating it. If he had tasted it, he may have had second thoughts because even though it looked like beef stew, there was an interesting asian taste from it from the miso paste. But! With the carrots and sweet corn, it helped to sweeten the entire meal that one doesn't need to add sugar in.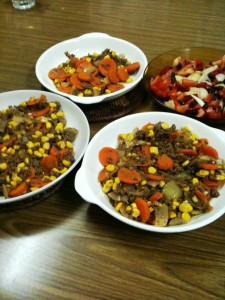 What I did was stirfried some onions, garlic and sliced carrot in butter. I nearly didn't want to add in the mince beef because the delicious smell of the butter was so tempting and fragrant that to add anything else would probably have been sacrilege. Well, the beef still went in else I wouldn't have eaten enough protein for the day so in it went! After that, the 1 tablespoon of miso paste went in with a dash of Lea and Perrins Worcester Sauce, sea salt and pepper. I must say that the flavours came out interesting and it was pretty sweet as well.
One thing that I wasn't really sure of was whether the mince meat should have shrunk to such little itty bitty pieces. Think I overcooked it in my effort to make sure that all the juices were soaked into the carrots and corn. Also, I wanted to make sure that the frozen corn had been totally unfrozen and completely hot even on the inside before putting it aside to be cooled down.
This unintentional beef stew was then eaten with a side salad dish of such redness in color, which had the tartiness of onions and sweetness of raisins. Fresh and refreshing to the mouth after the beef dish.
As I look back and read what I've just written, I can't believe I wrote it down in such a posh manner. Well, as posh as I would ever be. Probably my brain having a go at me for being so relax and American at times. 🙂
Anyway, meal for the day yesterday. Today was just out and about so nothing much to see, really.
So have a great weekend everyone and cheerio!