I decided to try baking a chicken like how it's done as a Beggar's Chicken but this time, using Tom Yam seasoning and using Limau Parut (kaffir lemon) as well as Lemongrass (Serai) to give it a sourish flavour. It turned out a lot better than I had expected.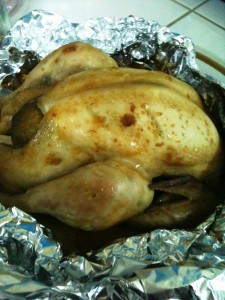 I had rubbed about 2 teaspoon of tomyam paste all over this organic chicken. I then stuffed it with 3 stacks of lemongrass and 2 kaffir lemon (limau parut) that were pierced using a knife. I also cut one onion into quarters and just laid them on the side of the chicken. The onions eventually caramelized into sogginess because the chicken was in there for 3 hours @ 200 degrees Celsius. Then I browned it for about 15 min @ 220 degrees Celsius. It didn't brown a lot because I didn't have a layer of oil over the skin (trying to be more healthy).
So there you have it, quickie chicken. However, I think I probably had some transfat in there from the Tomyam Paste because the ingredients listed down palm oil and it's probably hydrogenated. Now I would have to start hunting for a recipe on how to make the tomyam paste from scratch so that I can avoid the formation of transfat. See the lengths I go to just to see if it's possible to eat cleanly and safely?