Yeah, it's been busy as I tried making carrot soup from scratch since I couldn't find a pumpkin to make pumpkin soup instead. Now I understand why these soups are so hard to make fresh i.e. not using ingredients from the can.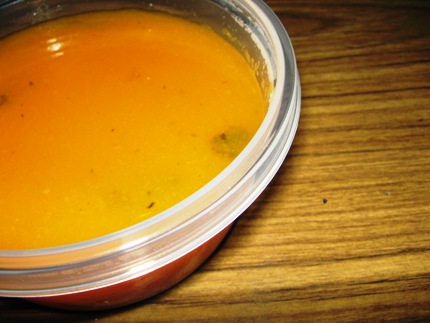 I took the recipe from a book titled "Just 5 Things" from a Singapore Publishing Company named Page One. I modified the recipe abit :
2 Mandarin Oranges
1/2 kilo of Carrots (grated)
1 large onion (sliced)
Few stalks of fresh coriader
Some Thyme & Oregano (a wee bit)
1 teaspoon of Curry Powder
1/2 teaspon of vegetable stock (postnote : probably added in too much)
First the oranges. I should just have juiced them next time rather than try to peel the skin off. The thing about Mandarin Oranges is that there's so much fibre in them, unlike Clementines or Satsumas. Anyway, I removed most of the segment skins and seeds and blended the sacs together. Then poured it together with the grated carrots and onions and the rest of the ingredients and boiled them for awhile until they soften. Then blended everything together and reboiled. I'm amazed that there was literally complete 4 servings as mentioned in the book.
Now the curry powder, because I forgot to ask Granny where she put her Chicken Curry Mix, I used her Fish Curry spices instead. Oh well. Still though, the hint of curry is just nice but it would have been better with pumpkin soup.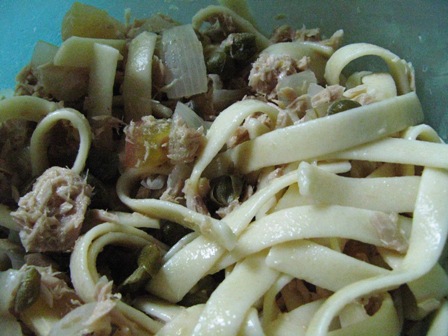 Now this is really the lazy men fare. Fettucine tuna but I got very lazy because the carrot grating just irritated me to bits.
1 large tomato
1 can of "No Salt" Tuna by Ayam Brand
1 medium onion
Oregano
Olive Oil
Boiled Fettucine
1 tsp of capers (rinsed to removed the salt in them)
Lightly fried the onion in olive until soft. Then added in the chopped tomato as well as the tuna and oregano. Then because it didn't seem that tasty, I added in some rinsed capers. >.> Ok, the capers were salty so I guess the label was misleading.