I think I know what to do when it comes to low sodium diet but it's going to take awhile before I get used to shopping for eating for 3 meals a day. This is a drastic change from eating home during dinnertime only.
This evening was an event of getting enough stuff to make breakfast, lunch and a tea-time snack tomorrow. So, just to make it easier, I made extra helpings for the lunch and to bring some break tomorrow. I just hope that I made enough. Still not too sure about how much I should be eating.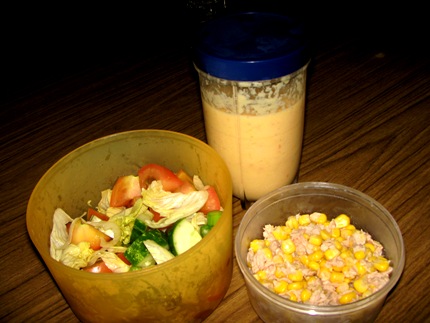 Morning : Smoothie
Easy to do since Granny unearth her blender that she has had since 2006 but we've never used it. So, it was a homemade frutie smoothie with :
1 Fuji Apple from China
1 Orange from China
1 Nestle Fat-free Natural Yogurt that I paid for 1/2 price compared to recommended retail price.
Blended it all together in the food blender and surprisingly came out sweeter than I had expected. This is considering that I didn't add in any extra sugar into it.
Lunch + Teatime : Salad with Tuna & Corn Mix
Well, I started out wanting to do a simple Tuna sandwich with a side salad but I got caught up doing it that I made extras.
Tuna & Corn Mix
1 LIGO Can of Corn
1 AYAM Brand No-Salt Tuna
1 tbsp of Kraft fat-free Mayo
1 tbsp of pepper
Well, seriously, anything that comes out in a can would contain salt but I was out of ideas on how to get hold of corn without having to clean the cob. Besides, I'm still trying to work out a way to deal with cooking meat at night for meals the next day.
Anyway, with the corn, I rinse out the corn twice in the futility that a lot of salt would be removed (fat chance). Ah well. This weekend is going to be a major shopping day and exploration as well as discovery of all things healthy and green.
The No-Salt Tuna was a very pleasant surprise but I doubt that I'll get the chance to eat it that often. I tried to find the link online but it looks like their website doesn't have a dedicated link to their products. Tasting it, there is definitely the lack of salt presence.
So, finally, the KRAFT Fat-free mayonaise. Yes, it's low in fat but sadly, not low in salt. Yikes! Hmm….and I think I put a dab bit too much so must put less. Apparently, 1 tablespoon is already about 750 mg of sodium. On the other hand, another website posted the sodium content as only 160 mg. I have to check the labels again but anyway, only added a bit just to give some taste to the mix.
Salad :
1/2 cup sliced lettuce
1/2 cup cucumber (dice)
1/2 cup celery (dice)
1 tomato (dice)
1/2 cup seedless red grapes
1 teaspoon of Balsamic vinegar
I had an incident with the vinegar. Should have used a spoon. Instead, the entire salad got splashed with about 1/2 cup of it. Haha! So, had to rinse the salad and pour it out.
Needless to say that this entire exercise took about 1 hour because I made some smoothie from cucumber + carrot which didn't taste very nice (and ended up being thrown away). Plus, although I didn't put it up, as a reward for making the efford to do this, I made myself an ice-blended dragonfruit smoothie (which Granny like).
I foresee a lot of broken blenders in the upcoming days.
And hopefully, I can get more ideas on what to do in the upcoming days.