Woke up early at 5 am and made it to the Waterfront at 6:15 am. And ended up queing for an hour for registration and to get the free T-shirt. Never did expect so many people to wake up early for a free T-shirt! Luckily, I managed to get one, even if it was a size S. (Kudos to the YB who said that Nestle promised to have ready 3,000 T-shirts for next year's event!).
Friends : Good thing you got a Size S! It's now a good motivation for you to keep on exercising!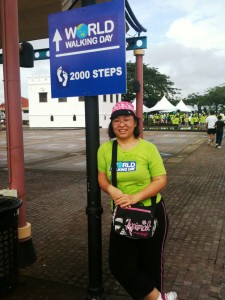 I never did find out where the 3K steps were so took a picture at the 2K step sign.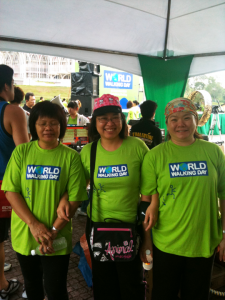 The two lovely ladies from the gym who decided to join the walk with me after I told them about the free T-shirt.
Angela : Haiya! They are all so slow! By now, we would have done 2-3 rounds! (after queuing for about an hour for registration)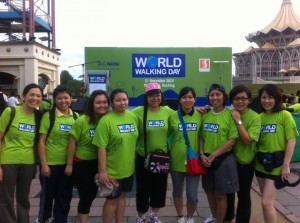 The motley crew of ladies in a sea of green T-shirts. Plus, we didn't cheat during the walk and took the long route around the waterfront, unlike a lot of people who decided to take shortcuts and head back to the starting point for a quick breakfast.
It was fun with the Senam Kenyalang Team where we did line dancing to the various cultural music. It was also fun watching colleagues trying to find their rhythm and not always successful. 🙂 They were a team of instructors from the Ministry of Social Development and Urbanisation. It was a nice touch to the 1Malaysia concept. We went through dances from various communities living in Malaysia : Malay, Chinese, Indian, Iban, Bidayuh, Melanau, etc.
After meeting up with some colleagues later on, a lot of them asked to be kept in touch of future events so that they can join in too. Must remember to do that next time then.
The weather was great and not too hot. A lot of crowds amidst the sea of green T-shirts everywhere. There were a lot of photos taken but not sure if they will end up being posted somewhere. A lot of people showed up with fancy cameras but probably not a lot will be posted online for public viewing.
The only downside of it all was that Nestle were trying to sell their products but they just couldn't beat the promotional prices of the hypermarkets and supermarkets in the city.
Seller : Those supermarkets and hypermarkets are cheap only during weekend.
Errm… I've never seen Nestle Yogurt being sold for RM2 each during a weekend at Ta Kiong Supermarket. It's a bit of a contrary event because the free breakfast meals were their cheapest (Nescafe, Milo, Maggi Mee) but having to pay for the expensive health food like Yogurt and Yogurt Drinks was not exactly a sign of healthy living. But I guess the event was more focused on actually walking 3,000 steps and not about healthy eating.
All in all, it was still a fun event. I hope that Nestle will make an effort to do better planning next year and probably along the lines of a more health conscious route. It's a good start that they are making to promote awareness and with step-by-step improvements, next year may be a better event.
What happened after that? Went with colleagues to watch the company's inter-department badminton contest, quick lunch at Taipei 101 and then home for an afternoon snooze. >.<